Namibia was my last stop in southern Africa and I decided to go overland rather than fly. Although I'd spent much of my trip solo, planning my own itinerary and often driving myself, for this leg I decided to join a group tour. I elected the 7-day accommodated Desert Explorer tour with Nomad Adventure Tours, which starts in Cape Town, South Africa and ends in Swakopmund, Namibia (they also offer a camping tour which I decided against). I ended up being the only American, black girl, and youngest person in our group of 12 (which included six Germans, four Canadians, one British and me). But we bonded and had a fun time over the course of seven days. It was an amazing experience and the perfect end to my time in southern Africa.
Day 1 – South Africa, Cedarberg Region
As instructed, I arrived at the Nomads Cape Town office at 7:30 a.m. with one soft duffle bag and a backpack (we'd been instructed not to bring roller bags or large pieces of luggage because they could not fit on the truck). After checking in, we boarded the large truck, secured our bags in the on-board lockers, and met our guide, Gift, and driver, Alfons. After a quick de-briefing and group introductions, we left around 8:30 a.m. and headed to Table View, a Cape Town suburb named for its view of Table Mountain from across Table Bay.  Unfortunately for us, a thick fog partially obscured the beautiful view and dashed our dreams of capturing the perfect photo.  By early afternoon, we arrived in Citrusdal, a small village in the Cedarberg region known for its abundance of citrus orchards and rooibos plants which are endemic to the area. There we stopped at Hebron — a working farm, restaurant, guesthouse and farmstall — for lunch and tastings of locally-produced rooibos tea and wine. We tasted two flavored rooibos teas, vanilla and black currant, and three wines, Chardonnay, Sauvignon Blanc, and Merlot, all of which were tasty. After the tasting we checked into our hotel and relaxed for several hours before heading back to Hebron for a private dinner. The owner, Chef Steve, cooked a succulent meal of steak, mashed potatoes and gravy, and sautéed spinach, which was accompanied by a local Chardonnay we purchased during the earlier tasting. For dessert, he made a flourless cake with raspberry sauce, which was also delicious. It was the perfect ending to a wonderful day and the perfect start to a fantastic week.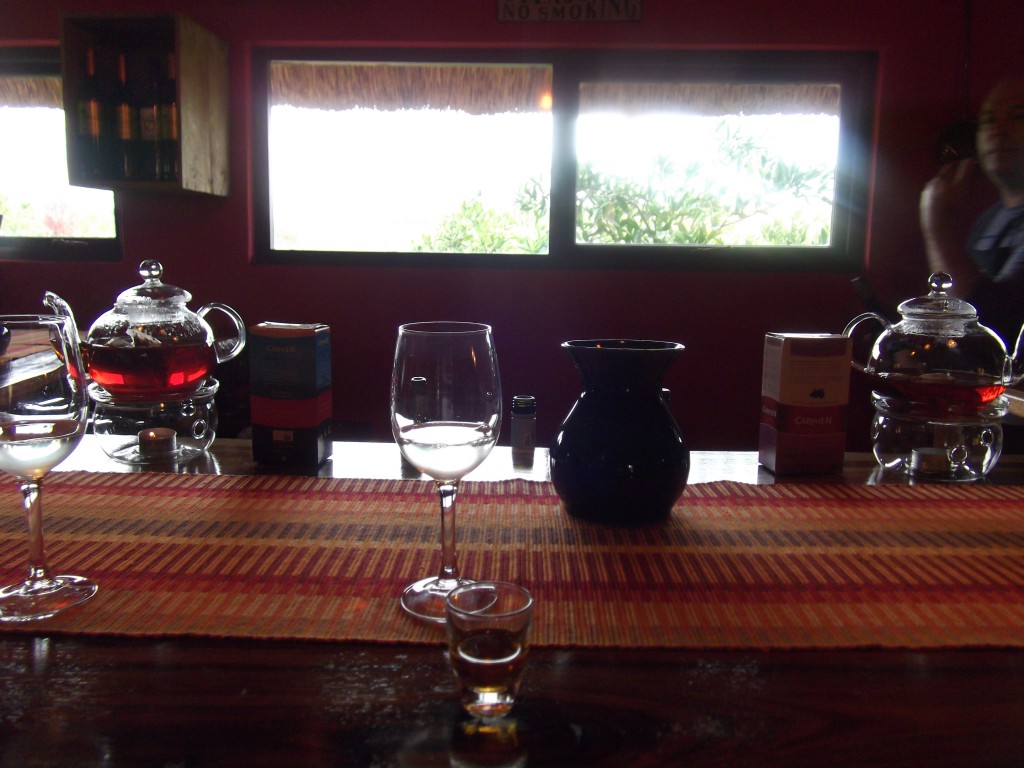 Day 2 – Namibia, Gariep (Orange) River
We woke up early the next morning, and after a tasty buffet breakfast at the hotel, we hit the road headed north towards the Namaqualand region in the Northern Cape of South Africa. About four hours later, we arrived in Springbok, the capital of Namaqualand. Though we wouldn't see it, Namaqualand is best known for the annual spring phenomenon (July to September) when millions of wild flowers bloom to life transforming the normally dry landscape into an explosion of color. After a quick bit of shopping, sightseeing and lunch, we returned to the road, finally arriving at the South Africa-Namibia border about two hours later. We entered Namibia at the Noordoewer/Vioolsdrif border crossing and proceeded on about 15 minutes later after getting our passports stamped. We were pleasantly surprised when we arrived at our nearby lodging, Felix Unite Camp, located on the banks of the Orange River. Our thatched huts had private patios and stunning mountain and river views. While some of the group went hiking or swimming, I spent the rest of the day sitting on my patio, drinking wine and taking it all in. The setting was just magical.
Stay tuned for Days 3 and 4
**This tour was booked by Detour Africa, which graciously offered a discount for my review.  All descriptions and opinions are my own.  Detour Africa offers a variety of private and group tours and safaris, catering to any budget, large or small.
Share This