If you're a wine lover like me, South Africa's Cape Winelands are wine nirvana.  There are more than 100 vineyards in Stellenbosch alone, and the wine tastings are unbelievably cheap (compared to the U.S.).  Just a half-hour from downtown Cape Town, the Stellenbosch wine route is an easy day trip by car.  During our Cape Town visit, my sister and I spent a late afternoon in Stellenbosch where we visited two vineyards.  The first was Blaauwklippen (from the Dutch word for blue rocks), one of the oldest wine estates in Stellenbosch.  The grounds were beautiful with manicured, green lawns and covered patio tables.  It was a perfect backdrop for a sunny afternoon of wine drinking.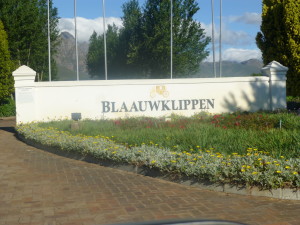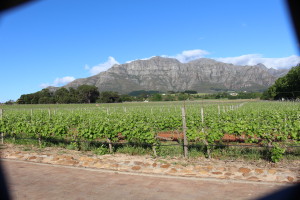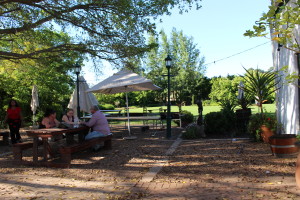 Next, we moved on to the Peter Falke estate. We chose it because it stayed open until 7 pm, but later learned it has a reputation as the best sundowner (sunset) retreat in the winelands. The indoor tasting room was modern and classy, but it had nothing on the outdoors.  The mountain backdrops are stunning and the huge decorative corkscrews add a quirky, fun appeal to the luxury outdoor lounge.  We did a tasting of four wines, which were paired with a variety of olives (yummy!).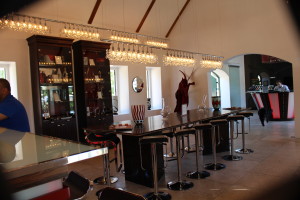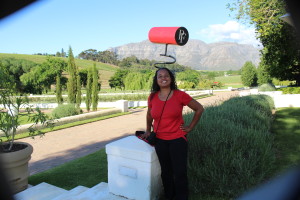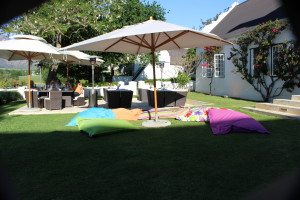 It was a relaxing afternoon as we soaked in our surroundings and enjoyed the beginnings of a beautiful South African sunset. We returned to the city before dark, feeling nice and with several souvenir bottles of wine in tow.  I look forward to returning to the winelands one day, though I'd definitely plan at least 2 days in order to add Franschhoek, South Africa's Gourmet Capital.
Share This