1.  Choose the Largest Yacht You Can Afford. Catamarans are a Yacht Week favorite. They're big and they have lots of lounging space on deck, so they're best for large groups on The Yacht Week. But, they're also the priciest. If you can't get a catamaran, choose the next biggest boat you can afford. Trust me, after a few days you'll be happy you opted for the extra space.
2.  Get a Skipper. The Yacht Week charges an extra fee for a skipper. Unless you're an avid boater and know how to sail, I highly suggest that you get one. Even if you can sail, I still recommend hiring a skipper. The Yacht Week is all about partying and having fun, and your week will be a lot less enjoyable (and less safe) if you decide to sail without one. The skipper fee is about $1,000 USD (at time of writing), plus your crew has to pay for all of his or her food for the week, but it's a small price to pay for your safety. (You can also pay extra for a hostess to shop, clean, and cook for you. Unless you just really want to be served, you should pass on that option.)
3. Pack Light. There is very limited space on board, so this is not the time to bring half of your wardrobe. Leave the make-up and hair supplies at home too. You'll mostly be wearing swimsuits so you only need a few additional outfits. Pack light and limit bags to one per person. Soft duffel bags are best because they're easier to smash into tight closets. Click here for more details on what to pack.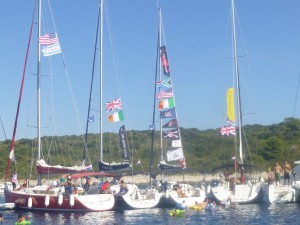 4. Bring your National Flag. A highlight of The Yacht Week is seeing the various country flags flying on the yachts. Purchase your flag before the trip and don't forget to bring it with you. If you have people of multiple nationalities on board, you should have a different country flag for each one. As a general rule, the national flag should be about one inch long for each foot of overall boat length. However, we chose a 2′ x 3′ U.S. flag and it worked fine.
5. Choose a Unique Team Costume.  On regatta day, all teams dress up in costumes and sail in a race to be first to return to the marina. The team with the most original costume also wins a prize. Some teams wear custom t-shirts with their team name imprinted on them. Others wear character costumes. (My team wore sexy lifeguard costumes). This is your time to shine, so be creative and choose something that will stand out.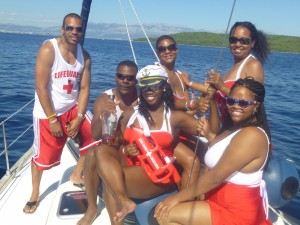 6.  Bring Music and Floats. Much of your time will be spent on the boat listening to music or swimming in the sea. Buy floats on shore or bring one with you to relax and have fun in the sea "swimming pool". Also, be sure to bring some CDs of your favorite music since many of the boats don't have IPod connections.
7. Bring Waterproof Cases. Nothing will spoil your trip quicker than mistakenly dropping your camera, cell phone or Ipad into the water. Make sure to have waterproof cases to protect your electronics.
8. Establish a Kitty for Expenses. There are a variety of extra costs not included in your TYW yacht rental fee, like fuel, port fees, water, groceries, skipper meals, and tips. To lessen the potential for disputes, each crew member should contribute to a kitty which is controlled by one designated person. Plan for approximately $150-200 USD person for the week.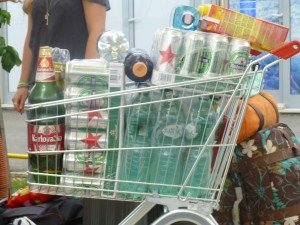 9. Make a Master Grocery List. You'll need to shop for groceries just before you sail out and also refill at some point during the week. To ensure that everyone on board has food they like and are able to eat due to dietary restrictions, make a master grocery list with food choices from each person. The list should include food items for breakfast and lunch, plus plenty of snacks, fruits, and beer/alcohol. Also, don't forget water, condiments, toilet tissue, napkins, trash bags, and disposable cups, plates, and silverware. Remember, there is limited space on board and the refrigerator is small, so don't overbuy especially refrigerated items. Most likely you will eat breakfast and lunch on the yacht and go out for dinner at restaurants on shore.
10. Buy Travel Insurance. Your trip will be paid for months in advance of your departure, so in the event you have to cancel at the last minute, you could be out of a lot of money. A travel insurance policy which covers trip cancellation could reimburse those expenses. But hopefully you'll actually make it on board the yacht and that won't be an issue. Just know that a week of drinking, water, and crazy antics (like jumping off 40-foot cliffs) mix to create the potential for accidental injury. Some Yacht Weekers have been known to suffer broken bones or worse. Make sure your travel insurance covers overseas medical treatment and emergency evacuation. As they say, better safe, than sorry. Now go and have fun!
Share This