Before The Yacht Week I had never even been on a yacht, much less spent a week on one. If you're also a first-timer, then you're probably wondering exactly what you should pack. My best advice is to pack lightly and use a duffel bag or other soft-sided luggage. With limited space on board and an unceasing state of inebriation, the last thing you'll want to worry about is a heavy, oversize bag. Here's what you should bring:
• Camera (don't forget it – you'll take tons of amazing photos)
• National flag (rep your country flag loud and proud)
• Waterproof Dry bags (to keep your camera, cell phone and/or tablet safe and dry)
• (7) Swimsuits (this will be you main daily attire, so bring one for each day)
• (1) White sundress or pants set (for the White party)
• (3) Sundresses (think dressy casual – no gymshoes, short shorts, tank tops, or mini-skirts are allowed at Hvar, so these will come in handy)
• (3) T-shirts or tank tops
• (3) Shorts
• Hat or visor (to protect your face and body – the sun can be brutal at mid-day)
• Beach towel
• Aqua shoes (for rocky beaches)
• Boat shoes or flip flops (choose one to wear on deck)
• Sandals (flat ones with rubber soles are best – leave the high heels at home)
• Team costume (the crazier, the better)
• Floats (to relax and have fun on the water)
• Props/Gadgets (e.g. blow up dolls, water balloons, super soakers, and solar lights – not required, but helps to make your boat stand out)
• Ear plugs (for light sleepers – expect loud music and talking on most nights)
• Eye mask (again for light sleepers)
• Toiletries (travel size everything, except bring slightly larger shampoo and conditioner – beach hair is the name of the game)
• Make-up (lip gloss, eyeliner and mascara is sufficient – leave the rest at home)
• Sunscreen
• Lip balm
• Dramamine (for sea sickness – you probably won't need it, but better to have it than not)
• Aloe Vera (in case you get sun burned)
• First Aid kit (for the inevitable scratches, cuts and bruises)
• Music CDs  (since most of the boats don't have Ipod or Iphone connections)
• Electric converter and adapter (needed to switch between U.S. 110 – 120v and Europe 220 – 240v, otherwise you may fry your electronics)
• Cell phone charger
This list includes everything you need for a fun week. Visit The Yacht Week website for more info or feel free to ask me any questions in the comments below.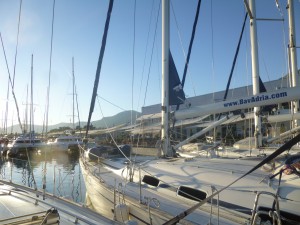 Visit the Croatia photo gallery to see more pictures.
Share This