UPDATED 2/1/2017
Although diplomatic relations between the United States and Cuba have been restored, US citizens and permanent residents are still prohibited from traveling to Cuba for purely tourism purposes.  You may, however, travel to Cuba under a general license if your travel falls within one of the 12 categories of authorized travel and no prior application is required.  For most people, educational activities, religious activities, support for the Cuban people, and humanitarian projects are the most appropriate categories to get there. Here are 12 things you should know before you go.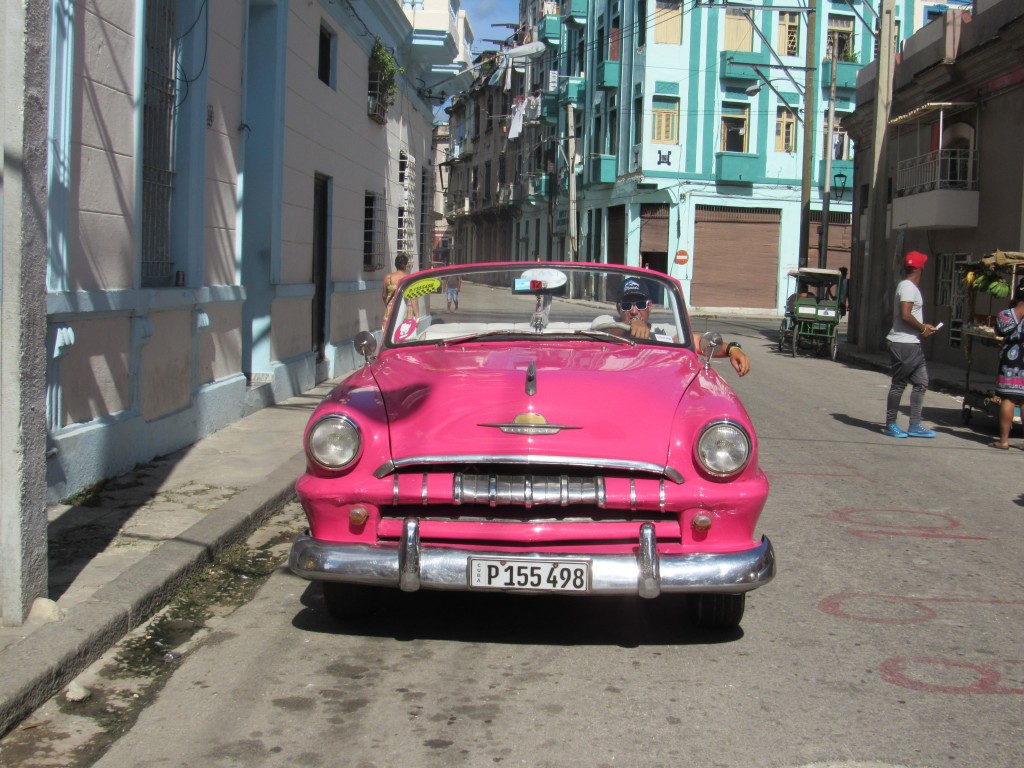 GETTING THERE
Several companies offer organized People to People tours for Americans. However, they tend to be pricey and the schedules are very regimented. Those willing to make their own arrangements and craft their own itineraries can save a bundle.
Commercial flights from the U.S. to Cuba resumed in August 2016, so Americans can now fly directly to Cuba instead of transiting through Mexico and other Caribbean cities.   Ten U.S. airlines – American, Jet Blue, Alaska Airlines, Delta, Frontier, Silver Airways, Spirit, Southwest, Sun Country and United – now offer direct flights to Havana and other Cuban cities.  have not yet resumed, so the only options are charter flights from the U.S. or connecting flights through Mexico and other Caribbean countries. Copa, Jet Blue, Interjet, Aeromexico, and Cubana all offer flights to Havana.
VISA
You need a visa to enter Cuba but they're easy to obtain. I got mine at the airport in Cancun for only $20.00. If you travel with a U.S. airline by charter, the airline will assist with handle your visa arrangements for an additional $50 to $100 80 to $90. Cuba Travel Services also offers a visa service for $85. You have to fill out a form declaring that your travel falls under one of the 12 authorized categories.
MONEY
US-based credit cards don't yet work in Cuba so Americans have to pay cash for everything. Cuba has two official currencies – the convertible peso or CUC (pronounced "kook"), which is mostly used by foreigners, and the Cuban peso or CUP (also known as "moneda nacional"), which is mostly used by Cubans. The conversion between CUC and CUP is 1 CUC = 25 CUP. The CUC is pegged at par with the US Dollar (USD). But there is a 10% penalty (due to the US embargo) and a 3% service charge when exchanging USD to CUC, so effectively 1 USD = .87 CUC.  In order to avoid the 10 % penalty, some visitors exchange their USD to Euros before arriving.
Currency can be exchanged at banks or cadecas (exchange houses), but expect a wait because lines are usually long. Some hotels will also exchange currency (and you avoid the long lines). Make sure to request small bills because most people and businesses cannot make change for larger bills. Do not exchange money with strangers on the street, as some are known to peddle counterfeit bills.
WHERE TO STAY
If you want an authentic Cuban experience, staying at a Casa Particular (Casa for short) is the way to go. A Casa is a private family establishment that offers paid lodging, typically costing $20 to $75 per night. Breakfast may be included and many also offer lunch and dinner for an additional fee. I stayed in a private room with an amazing family that treated me like their daughter. I highly recommend it.
There are various types of Casas, including private rooms, apartments, or entire houses. Cuba Junky has a full list with photos and descriptions, and AirBnb also recently started to list Casas on its site.  If you prefer hotels, La Habana guide has a comprehensive list of hotels in Havana and surrounding suburbs.
WHERE TO EAT
Cuba is not a culinary haven, but you can find some good meals at both government-run and private restaurants (aka paladares). Two of my favorite paladares were Habana 61 and 304 O'Reilly, both of which share the same name as their address.  To eat on the cheap, try a government subsidized eatery or street food stall. Pizza, ham sandwiches, and a variety of fried fritters are popular fast food items.
6.  TRANSPORTATION
Havana is very easy to navigate on foot and walking is the best way to get oriented to the city. But if you choose not to walk, the Havana Hop On Hop Off bus is the cheapest and easiest way to see most of the city in a day, at only 5 CUC per person. The tour bus operates from 9:00 am to 6:00 pm, on a half hour schedule. The bus often runs on Cuban time (in other words, late), so patience is needed. You can catch the bus at Parque Central in Old Havana.
Taxis are also a popular way to move about the city. There are several types, including bicycle taxis (aka bici-taxis), coco taxis, collectivos (shared taxis), and Cuba taxis. If you speak Spanish, you will have a huge advantage in hailing taxis. If not, be ready to negotiate and be sure to agree on a price before you enter the cab.
For inter-country travel, the Viazul bus is a good way to explore the island. Tickets can be purchased in advance via credit card on the Viazul website or in person at the bus station.  Even with an online reservation, you must arrive at the bus station at least one hour before departure to secure an actual ticket.  You should plan to buy tickets in advance, as popular locations often sell out.  The bus is notoriously cold (think meat freezer), so make sure to layer and bring a blanket.
7.  PHONE/INTERNET
Expect to be off the grid for most of your time in Cuba. Tourists cannot buy Sim cards for their cell phones, and thus far Verizon and Sprint are is the only US carriers to offer roaming. Another option is a world phone, but rates are pricey.
Tourists can access Wi-Fi by purchasing Wi-Fi cards at ETECSA offices or hotels. Wi-Fi is available only at certain hotels, which are easy to locate by the large groups of people standing outside on their cell phones. Wi-Fi can be spotty and slow, so don't expect regular access.
8.  AFRO-CUBAN MUSIC/RELIGION
With roots in Afro Cuban religion, Rumba is synonymous with Cuba (Rumba can collectively refer to the music, dance, and party). One of the best places to see it is at Callejon de Hammel  in Centro Havana. Every Sunday from 12 to 3pm, there is a Rumba with music, dancing, singing and religious celebration. Both tourists and locals attend and it is non-stop action.  Arrive early to secure a good spot since it's standing room only.
RUM
Cuba is home to two popular drinks – the Mojito and the Cuba Libre – both of which are made with rum. Havana Club and Santiago de Cuba are two popular Cuban rum brands and both are delicious and very reasonably priced. The Havana Club Museum in Havana offers tours and rum tastings for 7 CUC.
CIGARS
True cigar aficionados will want to visit the tobacco farms, cigar factories, and panoramic sights in Vinales. It's only a 1.5 to 2 hour ride from Havana and can be easily done as a day or overnight trip. For those who want to stay put in Havana, you can still see cigars being hand-rolled at the Hostal Conde de Villanueva. They sell an unbranded house cigar, as well as Cohiba and other popular name brands.
Cigars are a big hustle in Cuba. People will constantly approach you on the street purporting to sell authentic cigars at a discount.  Buy at your own risk.  Another tourist shared a story of a friend who purchased a case of cigars from a street vendor, only to find they were dry rotted and full of insects when she got home.  Moral of the story – look before you buy.
TOILET PAPER
Cubans are experts at doing more with less. Most public locations have a bathroom attendant who rations out small pieces of toilet paper in exchange for coins (typically .25 or .30 CUC). But some places have nothing.  For the ladies, I recommend packing a roll of toilet paper in your luggage and carrying some in your purse, just in case.
12.  GIFTS
You may want to bring small gifts for Cubans who are especially friendly or helpful to you. Many Cubans don't have easy access to items we take for granted, like memory sticks, lip balm, feminine products, and other toiletries.  Another popular item is gum (sugar-free is probably best).  Three separate times Cubans asked me if I had gum and I learned they don't have it there anymore.  I gave a piece to an older man, who chewed and savored it like it was a piece of steak (as he reminisced on the old days when Cuba had American gum).  It was truly a lesson in learning to appreciate the small things.
Do you have any tips about Cuba? Please share them below.
Share This