Part One of my Yacht Week adventure ended with a Tuesday evening party in the middle of the sea. On Wednesday morning, we set sail for Hvar, also known as the St. Tropez of Croatia. We arrived around noon and docked at the marina in Palmizana, a lush tropical island about 10 minutes by boat from Hvar. We ate lunch overlooking a beautiful turquoise beach, then took advantage of our first real opportunity to relax. Some of us hung out on the beach, while others (myself included) went back to the boat for a short nap.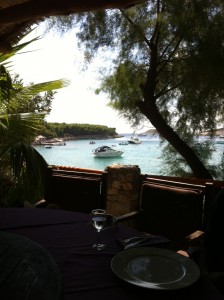 Beach at Palmizana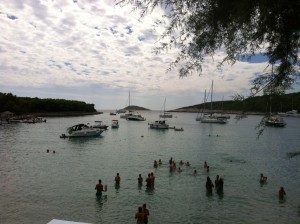 I woke up in time to fraternize on the boat and get ready for the private, late afternoon TYW party at Carpe Diem beach. Nestled on a private island, Carpe Diem is a modern outdoor club with cushioned wood beach chairs, parasol umbrellas, and rocky coasts overlooking sparkling blue waters; it is the most beautiful nightclub setting I've ever seen. The DJs were cranking out techno music and the drinks were flowing from several bars. People danced and socialized on the island club as the sun set, marking the end of another magical day. As I glanced around at panoramic views at every turn, it almost felt unreal.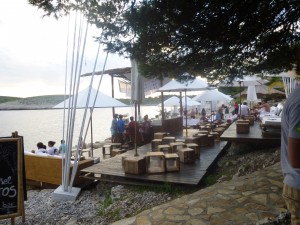 Carpe Diem beach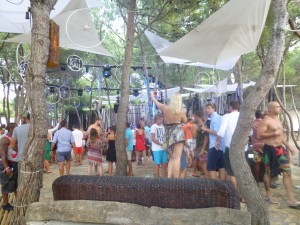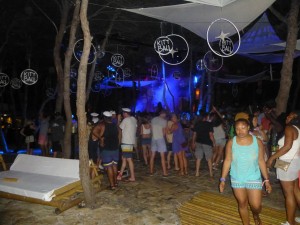 The Carpe Diem party ended around 8:00 p.m. and we returned to Palmizana by water taxi. Our skipper Sanjin, another male roomie, and I ate dinner with two American girls we met on the walk to the restaurant. We had a great conversation about places we've visited and our time at The Yacht Week (The talks confirmed that we had the best skipper; more on that later).
Thursday was another relaxing day on Palmizana. After a late breakfast, we hung out on the beach with other Yacht Weekers and tourists. It was a hot day and the cool water was refreshing. Later that afternoon, we took a water taxi to Hvar to attend yet another TYW day party. As we made our approach upon Hvar, it was clear this island was swankier than others we'd visited. There were luxury hillside homes, fancy fortresses, and huge yachts docked along the marina.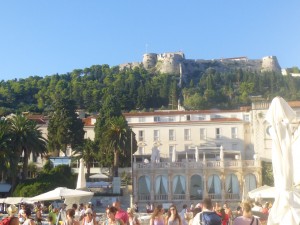 Hvar marina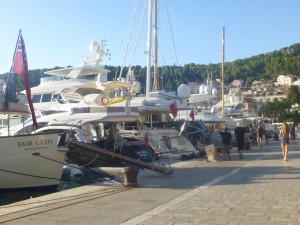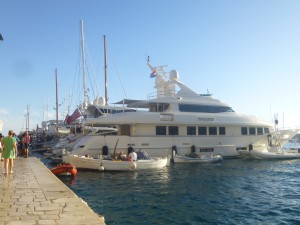 We also saw the wild TYW day party happening right there on the waterfront at Carpe Diem bar (a different club owned by the same owners as Carpe Diem beach). The party was standing room only, with lots of dancing, drinking and other shenanigans; it continued on for several hours.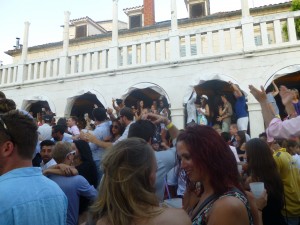 Party at Carpe Diem bar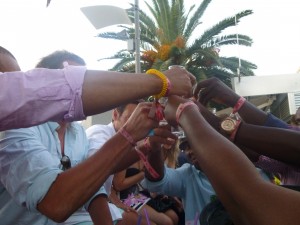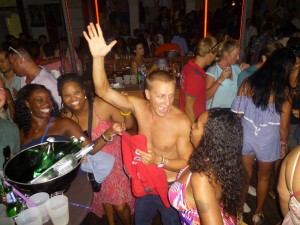 After the party ended, a large group of us wandered the town in search of food and libations. We wanted something quick and ended up at Hello 2, a walk-up burger bar with outdoor seating. I had a grilled chicken breast sandwich with fries and beer, all of which was tasty and fresh. We left there and strolled the pier before ending up at the Nautica Bar. It was empty when we arrived, but our group got the party started and it quickly filled up. The DJ spinned hip hop, rock, and old school classics and everybody was dancing, singing and having a blast. We later returned to Palmizana by water taxi and continued the party on our boat.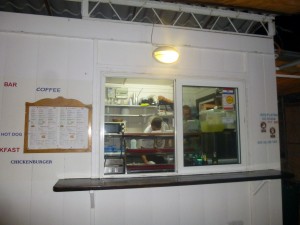 Hello 2 burger bar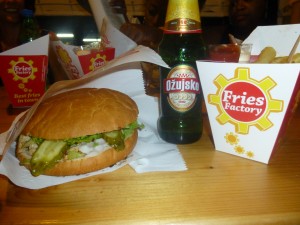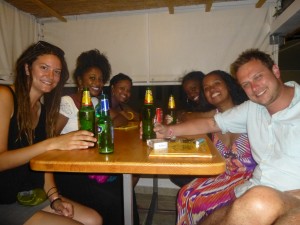 Friday was Regatta Day. Everyone dresses up in costumes and the yachts race back to Split. The first to make it back wins the regatta. The team with the best costumes also wins a prize. Unlike the rest of the week, to join the competition you must actually sail rather than use the motor.  As we learned, sailing is hard work.
We woke up early that morning and dressed up in our sexy lifeguard costumes. We were tired but determined to make a good showing in the regatta. Sanjin wasn't particularly happy about sailing that day, but he was a good sport and obliged us. We started off well in the top 5 yachts, enjoying the sea views while getting our first glance at the other team costumes. Unfortunately, our good luck didn't last long. About an hour in, as we were adjusting the sail, one of the ropes got stuck and the wind blew us off course. By the time we finally freed the rope and got back on track, nearly 20 boats had passed us and we lost our good standing. As it became more and more clear that we would not catch up, we decided to drop out of the race. Sanjin cranked on the motor and we cruised for the rest of our last day on the water.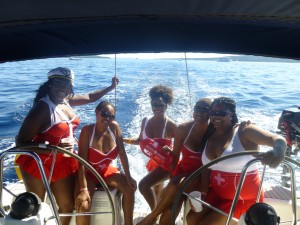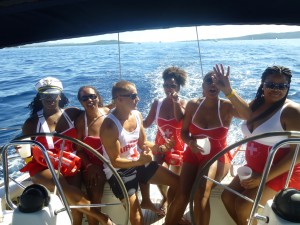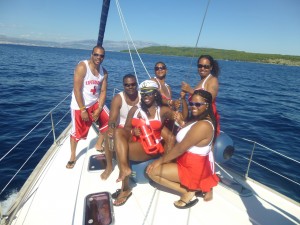 We made it back to the Split marina by early evening, just as the sun was starting to go down. It was a beautiful end to a fun and hectic week. The TYW Closing Party was later that night and the winners were announced, but our team was too exhausted to go. Suffice it to say that a full week of partying and sleep deprivation had finally taken its toll.
I woke up early on Saturday morning for my 8:00 a.m. flight. To my surprise, Sanjin also got up to bid me farewell (then went back to bed, lol). A native Croatian, Sanjin was skilled, knowledgeable and fun, and we were blessed to get him as our skipper. We had a blast and he made The Yacht Week even more enjoyable for us. As I flew back to Rome on my way to the USA, I relived the week in my head and was happy I'd decided to expand my horizons. Although it had not been on my radar, Croatia was amazing and The Yacht Week opened my eyes to its natural beauty, its historical treasures, and its huge boating culture. I can't wait to go back to see more. If you haven't yet been, I'd definitely recommend a visit to Croatia.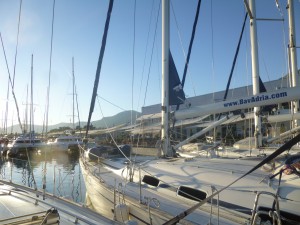 Have you been to Croatia?  What did you like or dislike about it? Please share your comments below.
Share This