After months of anticipation, the day finally arrived. At 7:00 am on a Saturday morning, I flew from Rome to Split, Croatia.  After exchanging some U.S. dollars to Kuna, the local currency, I took a cab to the Kastela Marina where our yacht was docked. There I met up with the rest of the crew, seven of us in total.  We hung out at the marina all day. eating pizza, drinking beer, shopping for groceries, and waiting for the boats to be cleaned from the prior week's occupants. In late afternoon, we met our skipper Sanjin, signed tons of paperwork, and got our TYW wristbands. It had been sunny all day, but by then clouds were starting to appear. I hoped this wasn't a bad omen.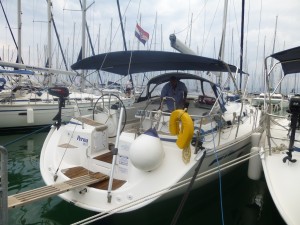 Our yacht, the Perna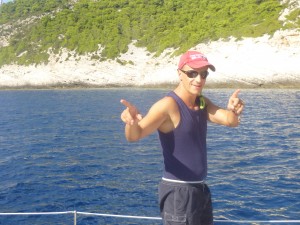 Our skipper, Sanjin
Around 5:00 p.m., we finally boarded the Perna. No sooner had we loaded on our luggage and groceries and raised our American flag, sure enough the skies opened up and it stormed like cats and dogs. We had to rush to close all the windows on the boat (which quickly became hot and stuffy) and wait for the storm to pass. To bide the time, we played cards, drank shots, and got to know Sanjin (who we nicknamed 007, both for his blue eyes like Daniel Craig and his ability to stealthy disappear unnoticed). The rain stopped about an hour later and we finally set sail around 7:00p.m. We sailed for a little more than two hours (one of which was in the dark) before arriving in Trogir, where we docked for the night. By then we were starving and ready for a real meal. We went to dinner at a restaurant on the marina that looked out onto the water. I ate a "shrimp" dish with rice and red sauce. Although they referred to these crustaceans as shrimp, thanks to my New Orleans roots I know them as crawfish. Either way, they were tasty. After dinner, we split up. Some went to the TYW Welcome Party. Others walked around town to see the historic buildings and search for gelato. I was in the latter group and it was a good end to a long day.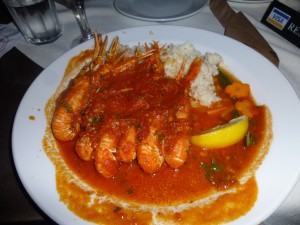 My "shrimp" dish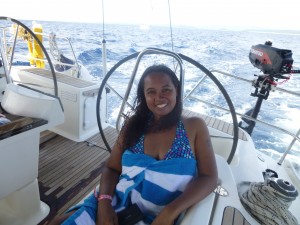 Me enjoying the views
On Sunday morning, we woke up to bright, sunny skies and were amazed by the beautiful blue waters and mountains at every turn. We sailed for several hours before arriving in Vis in late afternoon. We anchored at sea and started the party early. As is the TYW custom, we climbed from boat to boat to meet fellow Yacht Weekers, while others did the same. Along the way we shared shots, laughs, and a dance or too. One of the coolest aspects of TYW was seeing the diverse country flags flying on every boat. If you were smart enough, you could tell the nationality of everyone on each boat by looking at their flags. If not, it was one of your first questions. We met people from all over the globe, including Jamaica, Australia, Germany, and Ghana, among others. Later, that evening we took water taxis to the Vis marina. At Sanjin's suggestion, we had dinner at Bocadero, a fancy restaurant in Vis. We were joined by two Australians (Aaron and Tim) from the boat next to us. We had a blast, eating good food, drinking red wine, and laughing and joking for several hours. I had the sea bass cooked in parchment paper with vegetables and olives; it was fresh and delish! After dinner, we went to the TYW White Party at the St. George Fort. The place was packed and the techno music was cranking all night. We partied for several hours before turning in for the evening. We spent the night anchored at sea in Vis.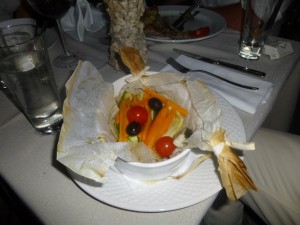 Sea bass w/ veggies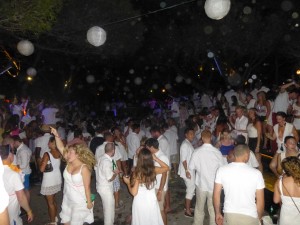 TYW White Party
On Monday morning, we got up, ate breakfast at Dionis, and bought more food and supplies for the boat. We left Vis around 1:00 p.m. and set sail for the Green Caves. It was too windy to get close, so we briefly looked at the emerald green waters then headed on towards Komiza. We sailed for several hours and arrived in early evening, anchoring at sea just off the marina. Komiza had a lively marina, full of people and restaurants, pizzerias, gelato stands and vendors selling jewelry and souvenirs.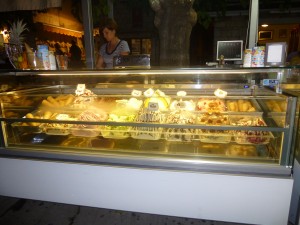 Gelato stand in Komiza
But while other tourists and Yacht Weekers were eating on the waterfront, we were lucky enough to have dinner at a neighborhood restaurant where Sanjin had made reservations for us and pre-ordered Croatia's national dish, Peka. After a 20 minute ride up the mountain, we finally arrived at restaurant Glob and were warmly welcomed by the family owners. We started off with appetizers of tuna prosciutto, cheese, olives, tomatoes, and a house red wine. Everything was fresh and yummy. About an hour later, the Peka finally arrived at the table. Peka is made with octopus or lamb (we chose the lamb) and cooked in a special clay pot with vegetables, fresh herbs and spices for four hours. All I can say is OMG, it was delicious! The meat was so tender and everything was so perfectly seasoned that it melted in your mouth. It was a pricey meal, but worth every cent. We were quite full after dinner, but we headed to another TYW party.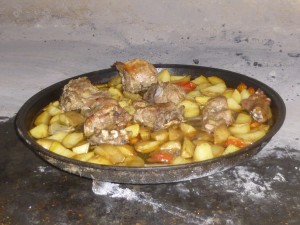 Lamb peka
We left Komiza on Tuesday morning and sailed to the Blue Caves. We rowed a paddle boat from our yacht to the caves. Initially it was dark, but once we got further inside, a hole in the side of the cave allowed in a ray of sunlight. The water was a sparkling blue hue, which almost appeared fluorescent – it was stunning. Unfortunately, I forgot to bring my camera and missed the shot. We left the caves and sailed for several hours before meeting up with the rest of the Yacht Weekers in the middle of the sea. All of the yachts anchored in a circle formation to create a swimming pool.  We swam and relaxed on floats, having a big party at sea until late afternoon.  Later that evening, we lined the boats horizontally and spent the night out at sea moored to some large rocks. Everyone partied on their yachts, blasting music while singing, and dancing. All through the night, people climbed from boat to boat, greeting the occupants, and often sharing a drink or two. It was a noisy, fun and late evening.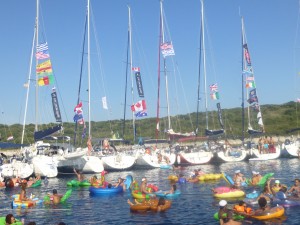 "Swimming pool" at sea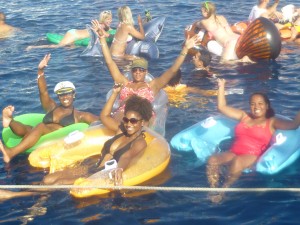 Up next, Part 2 .  .  .  . when we arrive at Hvar, the St. Tropez of Croatia
Share This