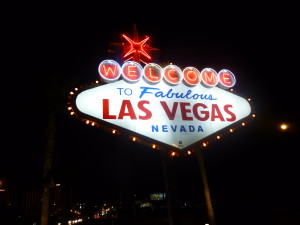 My first trip to Las Vegas was about 15 years ago.  Back then, the Vegas strip was a lot less congested and hotel rooms, food, and gambling were cheap.  I remember $5 game tables, $10 buffets, and $1.99 early morning steak and egg breakfasts.  Weekend packages to Vegas were plentiful and affordable.  Gone are those days.
In today's Vegas, weekends are most expensive with decent rooms costing 2 -3 times the weekday rate.  Buffets are $25+, blackjack tables have $15-20 minimums, and there's no such thing as a cheap breakfast special.   Vegas can be a real budget buster unless you know where to find the deals.  Here are my top 3 tips for saving money and living large in Vegas:
1.  Hotel Rooms:  Book early for the best rates and try several bookings sites, as prices can significantly differ.  My favorite sites are Hotels.com, Kayak, Orbitz and Venere.  Try the actual hotel websites too.  Sometimes they offer specials and extra perks for bookings on their own websites.  Lastly, air/hotel packages may provide the best deal.  Try Southwest or Delta airlines for package deals.
2.  Entertainment/Food:  Tix4Tonight is the best source for discounts on shows, restaurants, buffets, tours, and other attractions.  With multiple locations along the strip, they offer same or next day discounted tickets, often for as much as half off.  Their offerings vary by day, so if you're flexible you can find some great deals on top shows and restaurants.  Go early for the best selection. I've used them several times for shows and buffets, and can attest to the huge savings.
3.  Nightlife:  Expect long lines and expensive cover charges at Vegas nightclubs, unless you have an inside connection.  One of the best club promoters in the game is Chris Hornak of FreeVegasClubPasses.com. Even better — his services are free. He can get you VIP entry into all the top Vegas nightclubs for free (ladies) or at reduced cover (sorry, guys). You'll avoid all the long lines and the ladies will even get a free drink or two. I can personally vouch for him. During a recent trip, our group of 10 ladies got free entry into all of the hot clubs, with free drinks. We skipped the long lines and were ushered right thru the door.  We easily saved more than $1,000 over the weekend and lots of wear and tear on our feet. I can't recommend him enough.
Do you have some tips or secrets for saving money in Vegas?  Please share them in the comments.
Visiting Las Vegas? Find Deals, Compare Rates, and Read Hotel Reviews on TripAdvisor
Share This