Senegalese cuisine is a West African cuisine influenced by the fare of North Africa, Portugal and France, which held the country as a colony until 1960. The cuisine is derived from the nation's many ethnic groups, the largest being the Wolof. There are several popular and beloved dishes in Senegal and I was lucky to try them all.
I arrived in Dakar around 2:00 am, and my hosts Phyllis and Eddy from Diasporic Soul were ready for me with dibi and rice to feed my tummy. Dibi, one of Senegal's favorite street foods, is grilled lamb, cut into small pieces and usually served with grilled onions, mustard sauce and bread. We stayed up talking until after 5:00am and I got a firsthand taste of Senegalese teranga too (Teranga is a Wolof word meaning hospitality). 
I woke up in early afternoon to the most amazing smell and learned that I would be treated to Senegal's national dish, Thebu Jenn. Thebu Jenn is a flavorful fish and rice dish served with a variety of vegetables and it comes in white and red (tomato-based) variations. I had the white and it was heavenly. It was served with bissap sauce, made from hibiscus leaves with the consistency of creamed spinach, and xoon, the coveted crunchy rice from the bottom of the pot.  
Over the next few days, I had Yassa Poulet and Poisson – fish and chicken versions of the popular dish made with onions, lemon juice and garlic and served with rice.
But the highlight was my attendance at a "ngente" or baby naming ceremony. It was a special day where family and friends gathered for a day of good food and celebration. After the baby girl was named, the men killed two sheep in the baby's honor (I didn't watch and only saw after it was done). Then the ladies all went to work preparing the meal. They cleaned the lamb, cut vegetables, and cleaned and cooked rice. It was fascinating to watch them work together and prepare a meal for 30+ people, all while dressed to the nines. The final product, Thebu Yapp, was the best meal I had during my time in Senegal.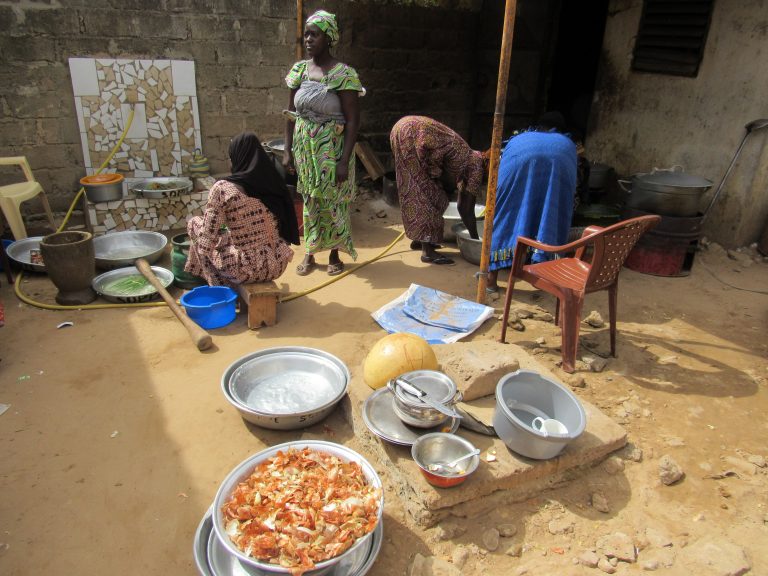 Have you tasted Senegalese cuisine? What is your favorite dish? Share your comments below.
Share This