My absolute favorite place in Mexico is Cabo San Lucas. I first went about 10 years ago and fell in love with the culture, natural beauty, and fun atmosphere.  I've been back numerous times since then, most recently in July 2013, and it never grows old.  This time, I stayed at Cabo Villas right on Medano Beach, which is THE place to be in Cabo. Medano Beach is like Miami's South Beach with a Mexican flair.  Every day is lively, with numerous people swimming, walking along the beach, playing in the sand, and sun bathing.  All the while, the beachfront restaurants — The Office, Mango Deck and Billygan's Island  — are pumping the latest jams and keeping the drinks flowing.  There's nothing like sitting on Medano Beach with sand between your toes and a margarita in your hand, looking out at beautiful turquoise waters and rock formations.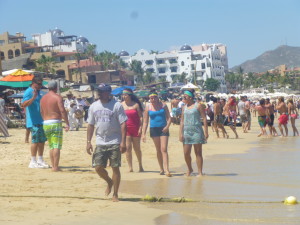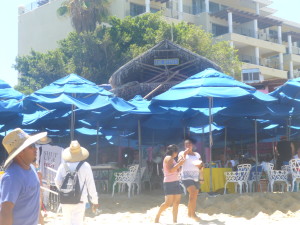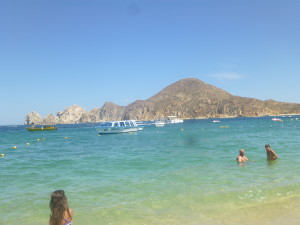 On the beach (at the airport, hotel, and everywhere else in Cabo), you quickly learn to "play the game."  Timeshares are big in Cabo, and folks masquerading as waiters or hospitality clerks will nearly beg you to attend a 90-minute timeshare presentation.  In exchange, they'll offer free breakfast and a thank you gift.  I usually go to at least one presentation and negotiate for multiple gifts. I enjoy looking at different properties  (even though I don't intend to buy a timeshare), so it's fun for me.  I've gotten dinner gift certificates, liquor, ATV tours and jet ski rentals, among other gifts. But I have a strict, 3-hour "get me back to the beach" rule. When you consider transportation, actual tour time, and other logistics, the 90-minute tour is more like 3 to 4 hours.  So if you don't want to leave the beach for that long, you may want to decline.
Medano Beach is also prime territory for vendors selling a variety of Mexican wares and services, from blankets, pottery, and jewelry to hair braiding and temporary tattoos.  They can be pesky at times, but it's all part of the fun.  If you decide to buy, make sure to haggle for the best deal.  If not, a friendly "no gracias" will usually send them on their way to the next customer.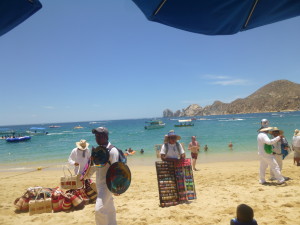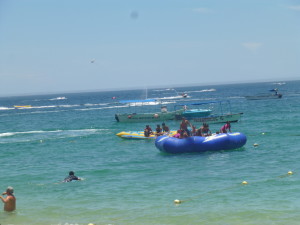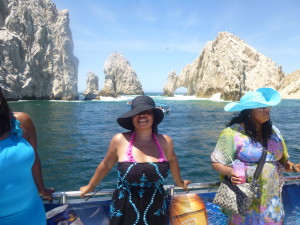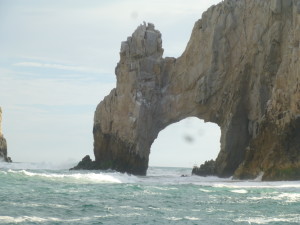 But the best thing about Medano Beach is the water activities.  Jet skis, banana boats, water trampolines, snorkeling, parasailing and glass bottom boats — Medano Beach has it all.  By day, the beach is teaming with water daredevils, like myself (my fave is the jet ski).  By night, the sunset and booze cruises take over.  It's so beautiful and peaceful to be out on the water, surrounded by beautiful mountain views and El Arco, Cabo's famous rock landmark.  I promise if you haven't been to Cabo yet, once you go you'll be hooked.
What do you love about Cabo?  Comment below.
Click here for more Cabo photos


Share This