Day 5 – Dune 45 – Deadvlei – Sossuvlei – Sesriem Canyon
After an amazing Day 3 and 4, I was so enthralled with Namibia's beauty that I didn't think it could get any better. Little did I know that Day 5 would reveal a landscape so magical that it was like a scene from a movie. We left our lodge around 7:00 am and about an hour later arrived at Sesriem gate, the entrance to the Sossuvlei area of the Namib-Naukluft National Park. We were amazed by the enormous red sand dunes surrounding us at every turn.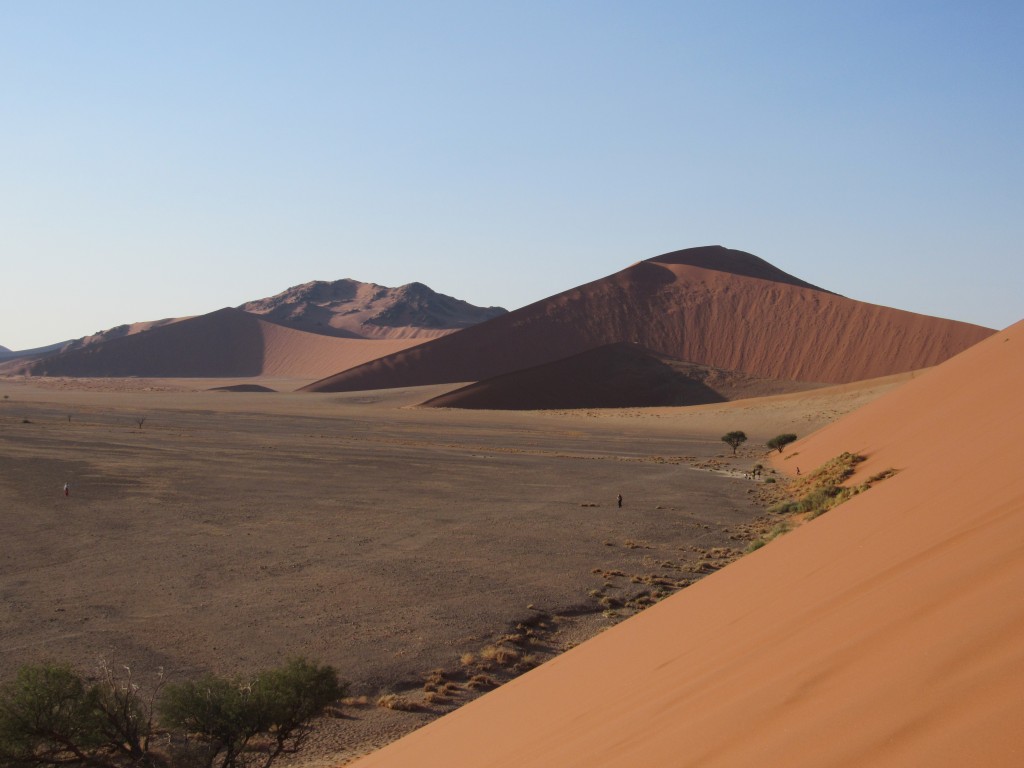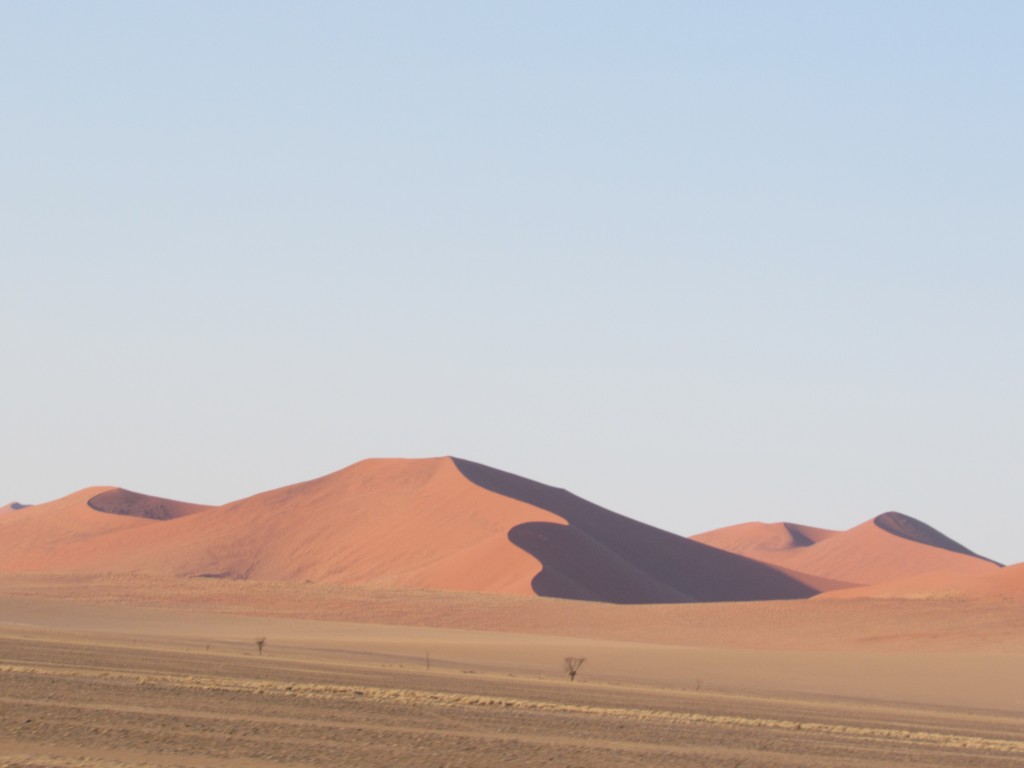 We drove along the paved road for about 30 minutes before finally arriving at Dune 45, one of the most famous dunes, so named because it is located 45 km past the Sesriem gate. Dune 45 is 80 meters (262 feet) high and believed to be composed of 5 million year old sand. We stopped and climbed to the top to enjoy the mind-blowing views. The slippery sand made the hike up quite strenuous and by the time we made it back down, we had worked up a serious appetite. Lucky for us, our guides had prepared breakfast on the truck and it was ready and waiting for us.
After breakfast we continued on the paved road to Sossuvlei and Deadvlei, large salt-clay pans which are completely surrounded by some of the largest sand dunes in the world. The largest dune, named Big Daddy, measures 325 meters (1066 feet) high. Since Sossuvlei and Deadvlei are encircled, you must hike the dunes to get there. By then it was late-morning and the desert sun beamed on us like fire. We walked for about a mile to Deadvlei and when we finally arrived the view was surreal.
Deadvlei is marked by blackened dead acacia trees, which stand as a stark contrast to the white salt-clay pan and the red sand dunes. The trees, which are believed to have died 600-700 years ago, were scorched by the intense sun. They don't decompose because it is so dry. We were living witnesses to the harshness of the environment and after walking back from Deadvlei, we were happy to see living trees with leaves, which we excitedly used for shade from the sun. Luckily, we were able to ride over to Sossuvlei in a covered 4×4 truck.
Next we stopped for lunch, then headed to the Sesriem Canyon, a natural canyon of sedimentary rock carved by the Tsauchab River. It measures approximately one kilometer (0.6 miles) long and up to 30 meters (100 feet) deep and is one of the few places in the area that holds water year round. Because it was dry season, we were able to climb down into the canyon to explore and examine the different rock formations.
It was late afternoon by the time we left Sesriem Canyon and we were hot, sweaty and tired. We returned to our lodge and once again I was able to sit on my patio and revel in the fascinating views of the Tsaris mountains. I even caught a glimpse of mountain zebras racing through the mountains. Life was good. Next up was Day 6. 
Have you seen the sand dunes in Namibia?  Share your comments below.
Share This