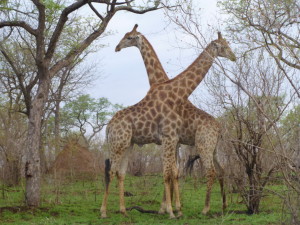 Like most people, I'd always heard that African safaris were super expensive. I went on my first African safari in October 2013, and while it was one of the best experiences of my life, it was pricey. I stayed at Kirkman's Kamp, a private lodge situated in the Sabi Sand Private Game Reserve, adjacent to Kruger National Park in South Africa; it included all food, drinks and safari drives and was a total splurge. But several days before, I rented a car and explored the greater Kruger Park area. Doing so, I learned about a variety of South African safari options I didn't know about before.
Many people self drive and stay at public rest camps inside the park, both to save money and to have a different experience. The rooms aren't fancy, but frankly you won't spend a lot time there anyway — the real action is in the bush. The bigger camps have restaurants and supermarkets, so you can eat on-site or bring food along with you on your drives. I recommend using a 2 x 4 or 4 x 4 vehicle, because the higher profile will allow for better wildlife sightings. Some of the camps even offer early morning and night drives conducted by Kruger Park staff in open trucks. It is quite easy to schedule yourself, but it may require more planning since rooms book up well in advance. Visit the SANParks website for information on amenities and facilities at each camp. Another option is to stay in lodging near the park and drive in each day, though that may be more time-consuming. There are several guest houses, hotels and B&Bs in the nearby vicinity. Visit sa-venues.com for more information and pricing.
If you prefer not to self drive, guided day safari drives or budget lodges are other affordable options (the word "budget" is relative, because most are still quite nice). Companies like Nhongo Safaris and Wild Wings Safaris offer guided, open-truck day drives and safari/accommodation packages. Although both offer camp lodging, Wild Wings Safaris also offers several budget lodges with rates as low as $200 USD per person, per night, including safari drives, food, and non-alcoholic drinks; rates may be even lower during low season. Their website is an excellent source of information for researching affordable game lodges and safari options (though you should compare prices with the direct lodge or camp website before booking).
For the more adventurous types, walking safaris or a meal in the bush might be a fun option. Companies like Wild Frontier Adventures offer morning bush walks  and night drives with three-course braais (BBQs) in the bush.  While the thought of walking through the bush or eating dinner at night surrounded by wild animals may seem scary at first, it really is a magical, once in a lifetime experience you shouldn't miss. (If it's any consolation, your expert guide will be trained to deal with wild animal encounters and will also carry a rifle for the rare emergency situation).  I look forward to going back on safari now that I know the ropes.  With current exchange rates at 1 U.S. Dollar to 10 South African Rand, there's no better time to go.
Do you have any tips for finding affordable African safaris?  Please share below.
Share This